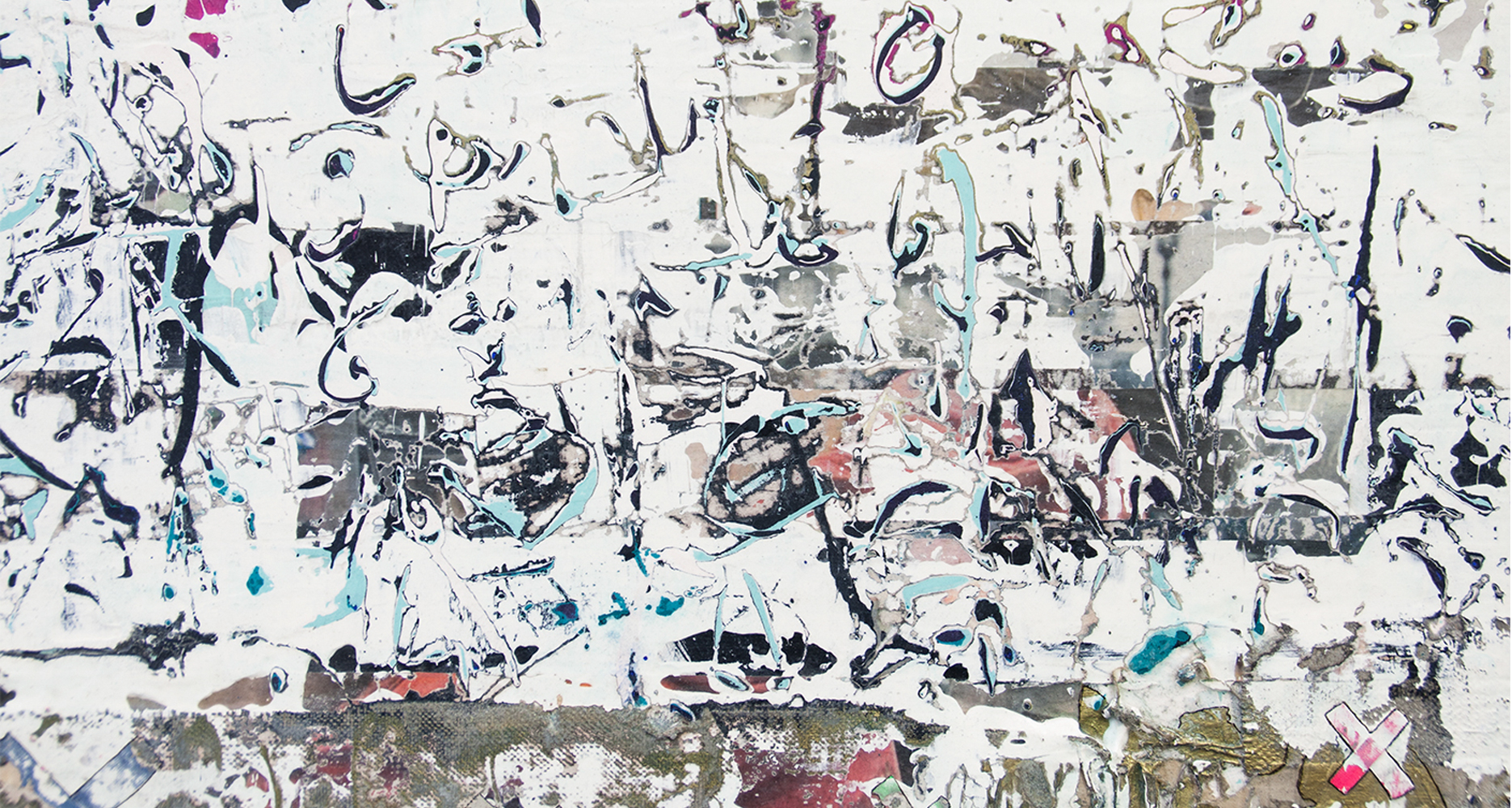 For me art is  a possibility to start a dialogue with  somebody by means of  an object – and this without being physically involved. Art can trigger a monologue or a dialogue  on the piece of work – the reaction it creates by engaging  others with it, is what makes it  quite fascinating.           
Robert Hoffmann
UPCOMING SHOWS :  Der neue Beckmann  – Soloshow _ 19.02.2019 until June, Galerie Anne Moerchen – Duoshow with Hans Hushan_ Opening 25.03.19 
More Informations regarding events and arttalks will be posted soon,
Robert
Robert Hoffmann lives and works in Hamburg, Germany. In his artworks he uses photos, tapes, corrugated newspapers, placards and other materials from the world of communication to create a complex multi-layered artwork. His style reminds the viewer of the form of collage and assemblage which he develops by using graffiti and typography. He gives this style a unique appeal through deconstruction by carving, cutting and polishing each piece to perfection. Robert Hoffmann holds a Masters in fine art and design and was a master scholar under Professor John Teschendorff and Professor Christopher Crouch.
His pictures are collections of words, and newspaper clippings on one topic each following daily phenomena of the media. Each work is preceded by a research whose focus is reflected on the image title. Robert Hoffmann translates the rapid emergence and repression of news into overlays, as they are known from placard advertisements in urban spaces.
The information store he created as a painting contain a flood of words and meanings without viewers of the finished image having access to them. They look at a sea of written remains which, when combined with the title of the work, can call up their own memories of the respective debates or stimulate their research.
罗伯特·霍夫曼(德国)
罗伯特·霍夫曼在德国汉堡生活和工作。在他的作品中,他使用来自全世界媒体的照片、录音带、瓦楞纸报纸、标语牌和其他材料来创作复杂的多层次的艺术品。他的风格让观众想起他通过涂鸦和印刷组合的拼贴和复合作品。他通过雕刻、切割和抛光每件作品进行解构,赋予这种风格独特的魅力。 罗伯特·霍夫曼拥有美术和设计硕士学位,他是约翰·塔瑟多夫教授和克里斯朵夫·克劳奇教授的硕士学生。
他的照片作品是文字的集合,包括每一个主题的报纸剪报,通常选取的都是媒体报道的日常现象。每件作品都是建立在学术研究之上的,研究的重点反映在图像标题上。罗伯特·霍夫曼将城市空间标语广告中的资讯热点和新闻报道整合到自己的作品之中。
他的绘画作品就像一个信息库,即使不了解完整图像的观众,仍然可以通过绘画所包含的大量的文字和信息来读懂作品。观众所面对的就像书写的残骸的海洋,通过结合作品的标题,可以唤起他们对各自记忆的思辨或刺激他们进一步的调查研究。